By now you have probably heard our exciting news! On Monday, March 21, the Province of Nova Scotia announced a "$3-million dollar investment in Banook Canoe Club. This investment will assist with significant infrastructure upgrades at the facility."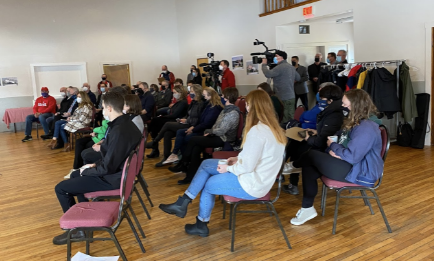 The Banook Board and members of Banook Canoe Club want to again pass along our sincere thanks to the Honourable Pat Dunn, Minister for Communities, Culture, Tourism and Heritage for this amazing investment, as well as to the Honourable Tim Halman, MLA for Dartmouth East who made the announcement at Banook on Monday morning.
Did you know?… Our Facilities Director, Geoff Bennett and our Facility Revitalization Committee have been working on this project for over 2 years and we are so pleased to have received this funding from the provincial government. The revitalization of our historic clubhouse will advance for generations to come, the family recreational atmosphere and the competitive canoeing and kayaking environment that make Banook Canoe Club a distinctive feature of our community.
Banook Canoe Club is the oldest sprint canoe club in the Atlantic Division. Founded in 1903, the hall side of the building was built in 1904. Banook needs major structural improvements and without this provincial support, it would not be possible to undertake this work. This project will also improve safety and accessibility at the club and will enhance the overall facility experience for our Dartmouth community.
The Facility Committee engaged an architectural firm to start a draft of our concept and presented this concept to numerous government officials. We anticipate the total cost for this project will be $5-million. As you know, membership fees for 2022-2023 include a capital campaign fee, which will contribute a further $7500 toward the project. We will soon be launching a focused capital campaign.
We will be hosting membership and community feedback sessions in the next couple of months. We hope you will join us. Stay tuned for further updates and planned timelines as we progress toward a start date on the project.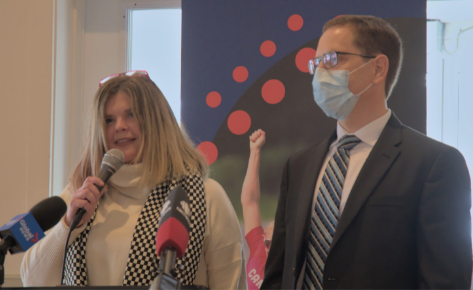 Above (left to right): Kim Gaudet (Commodore), and Geoff Bennett (Facilities Director and past Commodore)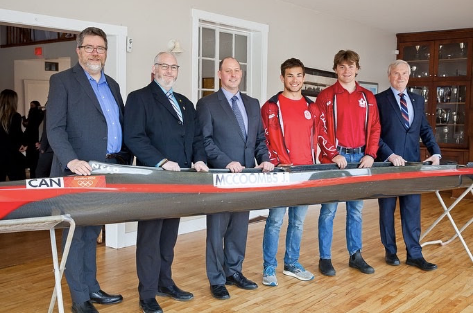 Above (left to right): Tim Rissesco - Executive Director, Downtown Dartmouth Business Commission; Honourable Brad Johns - Attorney General and Minister of Justice, MLA Sackville-Uniacke; Honourable Timothy Halman - Minister of Environment and Climate Change, MLA Dartmouth East; Ian Gaudet - Banook Paddler, current Canadian Junior Champion for U18 K1 200m; Alex Canning - Banook Paddler, and member of Board of Directors as Co-Director Paddling; Honourable Steve Craig - Minister of Fisheries and Aquaculture, MLA Sackville-Cobequid and master of ceremonies for the announcements.