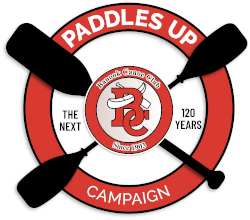 Banook Canoe Club announces its PADDLES UP CAPITAL CAMPAIGN to transform our 120-year-old facilities, ensuring barrier-free access.
Dartmouth, October 25, 2023 - The Banook Canoe Club (BCC), a cherished nonprofit establishment with a history spanning over 120 years, is proud to announce the launch of the PADDLES UP CAPITAL CAMPAIGN to support a groundbreaking renovation and expansion project. Situated on the historic shores of Lake Banook in Dartmouth, Nova Scotia, the BCC aims to revitalize its iconic red buildings, ushering in a new era of inclusivity, community engagement, and athletic excellence. Construction began earlier this month.
The BCC's century-old structures face the challenges of aging, which compromise the safety and comfort of its members and visitors. Additionally, the facilities lack accessibility, restricting participation for individuals with physical limitations.
The PADDLES UP CAPITAL CAMPAIGN at Banook Canoe Club aims to breathe new life into the historic facilities while preserving their architectural heritage. This comprehensive initiative will modernize the infrastructure, enhance accessibility, improve safety, and create versatile multi-purpose spaces while supporting a healthy lake for future generations.
Community Impact: Welcoming All, Fostering Well-being
The Banook Canoe Club welcomes over 5,000 people annually for various activities and programs. The proposed renovations and expansions will set the stage for the future. By embracing universal design principles, the club will offer barrier-free access, providing paddlers and individuals of all generations and abilities with recreational opportunities. These improvements ensure that the club is well-equipped for emerging health and well-being initiatives, the continued development of champion athletes, enhanced inclusivity, and an expanded roster of community events. 
The PADDLES UP CAPITAL CAMPAIGN
We thank all levels of government for their generous support of this $5 million project. Thanks to all governments and generous donors, we have already attained over 75% of our funding goal. We invite any interested parties to contact us and learn more about the PADDLES UP CAMPAIGN. We plan to complete all renovations by the spring of 2025 with a construction break for the summer of 2024.  We will continue to operate a very active club all year round throughout all construction.
The Paddles Up Campaign thanked the J&W Murphy Foundation for their Platinum Paddler level gift and Peter Akerley for his Gold Paddler level transformative gifts to the campaign during today's ceremony.
In conjunction with today's campaign launch, Banook is launching the $10,000 Shopping Spree Raffle. Thanks to a generous sponsorship, the raffle winner will win a $10,000 shopping spree at the Mic Mac Mall in time for spring break. Starting October 28th, tickets will be available online at: BCC Paddles Up $10,000 Mic Mac Mall Shopping Spree | Rafflebox
To donate or for more information about the project and how to support it, please visit the Banook Canoe Club website: https://paddlesup.banookcanoeclub.com.
Thanks to our partnership with the National Sport Trust Fund, every donation over $20 will receive a tax receipt.
Banook Canoe Club will host an Open House this Saturday, October 28, from 2 pm to 4 pm. The public can view the club's boats and meet our athletes. We will serve light refreshments.
Media Contact:
Beverly Mahon
Campaign Coordinator
PADDLES UP CAMPAIGN
Phone: 902-414-1661
Email: [email protected]