Everything you always wanted to know about regattas but were too shy to ask…
Racing
All members who are registered in paddling programs are encouraged to take part in regattas. ADCKC hosts regattas for a variety of age groups, including U10, U12, U14, U16 and older as well as Masters regattas. Most regattas are scheduled on weekends during the summer. Dates are published well in advance on the ADCKC website and paddling coaches will communicate with families in the week leading up to a scheduled regatta. 
If a paddler is unable to attend a regatta or chooses not to race, parents/paddlers please speak to the coach well in advance of race day. The coach will ensure you are not entered in any races, but please do give plenty of notice. Paddling is a team sport. An athlete who advises their coach they will participate in the regatta but then doesn't attend will disappoint their fellow crew members who won't have the chance to compete in the crew boats (K2, K4, C2, C4, C15).
Paddling is an outdoor sport and most regattas are a go - rain or shine. Generally, the only reason for weather delay or cancellation is due to thunder/lightning. Paddlers should expect to race in rain and wind and the clubs on Lake Banook are proud of the experience our paddlers gain racing in all conditions.
Regatta Draw
Families should consult the draw (schedule of events) prior to each regatta. The draw is published on the ADCKC website and can be updated as late as the evening before a race. This draw will include the times/races and names of those taking part. Make sure to check the website frequently for revised updates to the draw.
Some spectators like to print the draw in advance of the regatta. Remember the draw can be very long, so please take note before printing. Printing the draw helps spectators to follow the racing schedule and to record race results. The draw will also be posted on a bulletin board for the paddlers to refer to during the race day. 
The Regatta Process - what to expect
All U16 and younger paddlers must bring their PFD on race day. Paddlers who do not have their PFD will not be permitted to race.
Paddlers should arrive 1 hour in advance of their first race to get their boats ready and to warm up for their race. Depending on the event, some older paddlers (U16 and older) may want to arrive 90 - 120 minutes in advance of their race. It is wise to bring lots of extra clothes for each paddler in case the wind picks up or it starts to rain. It is also important to bring sunscreen and a chair to sit on. We suggest packing lots of food for the paddlers, as they tend to eat all day long. 

Parents/spectators should plan to be in attendance for the whole day. It is not uncommon to need a jacket or even a blanket and a hat and mitts. Make sure to bring lots of layers if you are planning to watch the races. Spectators also should bring food and snacks!
Races are sometimes pushed back due to weather or other delays. If your child is racing, try to keep the whole day open. Other paddlers may be depending on your child for a crew boat and leaving before a race affects many kids and coaches. Bring a book and/or we can always use a helping volunteer hand! It's also fun to cheer on the other kids and enjoy the excitement.
The draw will be printed and posted for paddlers and coaches to refer to during regatta day. The coaches will be on hand to make sure all paddlers prepare in advance for their race. This includes having the boat prepared, lane numbers attached to the boats and getting on the water in time for the race. Older paddlers will be expected to require less assistance from the coach and be familiar with the race schedule, their lane/boat number and when they should be leaving the dock. 

If a paddler tips or falls out of the canoe or kayak, a rescue boat will pick them up and bring them back to the dock, unless the distance is very short and the paddler can swim the boat and paddle back on their own.
Race results can be found on the ADCKC website. Spectators should expect to check this website frequently for race results. Results are not published in hard copy and the only location to consult the results is on the ADCKC website.
Regatta Etiquette
While the coaches try to be very approachable and are available to talk with parents about their child's progress, race day is not the time for these discussions. There are many youths that require guidance and attention on race day. Sometimes your child might not be in the boat they would like to be - please remember coaches are selecting crews following the club's criteria for selection. This means they are considering a number of factors including but not limited to skills and ability, attendance at practices, enthusiasm from the paddler and the number of athletes participating in the regatta in each age group. If you would like to discuss your child's specific needs, please do so on a non‐race day. Once the crews are selected, the coaches will not make changes. Remember that parents are spectators.

Only coaches and athletes will be permitted on the docks, especially on race day. 
Regatta Gear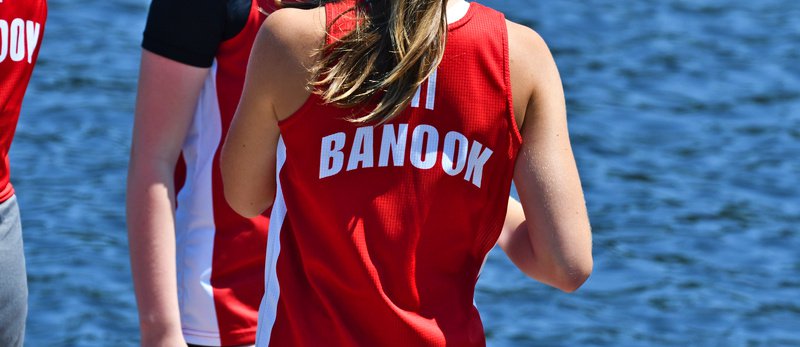 ** NEW in 2023: **
U14 and under can wear their club colours as a t-shirt or singlet. It is their choice.
From ADCKC's policies and procedures: 
"5.13 - Competitor Uniforms
Competitors under the age of 15 years old as of December 31 of the competition year must be dressed in a shirt in the CKC DDC approved colours of their club
Competitors 15 years or older as of December 31 of the competition year must be uniformly dressed in CKC DDC approved colours and design of their club."
Paddlers older than U14 must race in a Banook singlet for all local, regional, and national regattas. This is required to be worn for every race, including under a PFD (U16 and younger). The Banook singlet is approved by the Atlantic Division Canoe Kayak Canada (ADCKC) and Canoe Kayak Canada (CKC). Banook singlets are available for purchase in the Banook office. 
Also, another reminder for paddlers U16 and younger - please bring your PFD.
Parking
Parking at the clubhouse is very limited during regatta weekend. You can expect that you will need to find parking off-site. We recommend parking on nearby streets or across the lake near the Lion's Beach area.  The entrance to this parking lot is on Nowlan Street, off Prince Albert Road.