In the Mi'Kmaq dialect, Banook means "First Lake". The Mi'kmaq were the first to navigate Lake Banook and the Dartmouth lake system as they traveled across the Province. The waterway system from their winter home in Shubenacadie, led them to their summer home along the shores of the Dartmouth lakes and the body of water that is now Halifax Harbour. The lakes were also ideally situated for the military at the time – providing the ability to move supplies from inland communities to Halifax. Thus, in 1826, the construction of the Shubenacadie canal began which would open up the waterway to transport goods through the interior of the province and leading to the Bay of Fundy.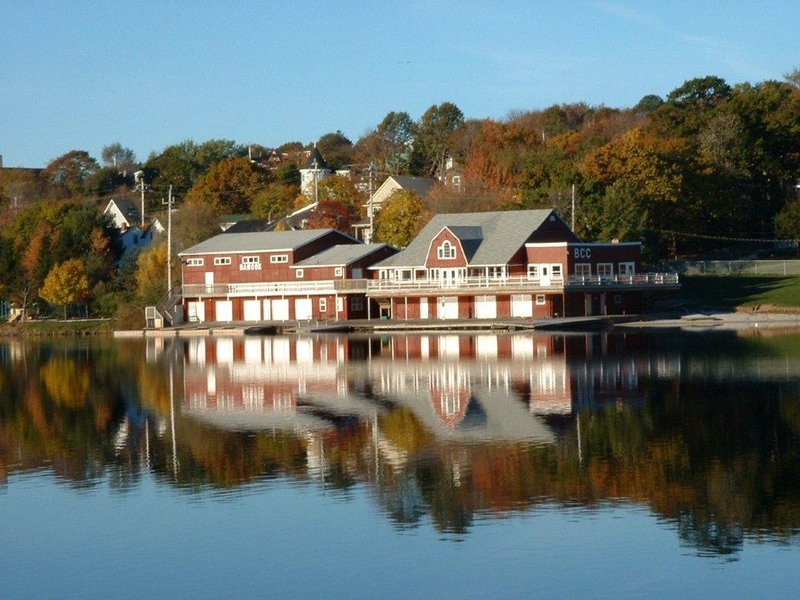 By the late 1800's, canoe clubs were appearing all over Canada and the United States. The lakes of Dartmouth seemed to be a natural spot for the sport. At the same time, the William English Canoe Company hired Arthur Weston. He was a member of the RedCaps Snowshoe Club and an accomplished rower and canoeist. With four other canoeists, he engaged them in the idea of creating a space for paddlers to store their canoes. They decided to build a boathouse on the "First Lake." Their first meeting was held in 1903. Later that year, they incorporated the Banook Canoe Club Limited and thus the club of today was formed.
Since it's beginning, the Banook Canoe Club has had a deep history with the Dartmouth Natal Day celebrations. The first celebration which the club hosted was in 1904 – just one year after its incorporation! Funded by the Dartmouth Ferry Commission and the Town Council of Dartmouth, the day's events included ball games, regattas and a concert. Natal Day regattas continue to be a part of the life of the lake and the club.
The history of the club is much more extensive than what is outlined here. For a more detailed account, the book, "Banook Canoe Club: voices from our past" by Allan Billard, provides a much broader picture and an interesting read!
Bibliography:
Allan Billard, Banook Canoe Club: voices from our past; a celebration of our first one hundred years(Dartmouth: Sand Dollar Productions, 2003).